When it comes to marketing funnels, it usually comes to mind. Everyone tells you that all of the advertising work you'll do will return to you in a few steps, and you need to invest more in this advertising work.
No it is not.
1- The Biggest Threat in Your Hunting: SEO
I have bad news for you if you have invested in high amounts of SEO to reach your potential customers. You have been creating backlink trees for years, on-page SEO you made individual updates on the code page by page, and you started to get your highest hit from the organic search. But now things have started to change, right? Compared to the old, your sales rates to visitors from organic search fell, the visitor's sight dropped. SEO agencyare you saying that your competitors are now starting to invest in SEO and that you are starting to fall because you are starting to catch up with you? No it is not.
Google has announced that it will now show 4 ads in its new ad updates. That is, the user will see 5 content 4 as an advertisement on the landing page. In the sidebar part of SERP, the catalog advertisements are going on. Organic, even if you are in the 1st place, you can not see you anymore. Let's even talk about the more crucial part of the job. More than half of Google's users come from mobile we know. What does landing look like? The first drop-down screen has only ad content. Even after you scroll, there are still ads. It was very difficult to wait for a return from pure SEO at the point reached. CTRs changed again in the new design with 4 ads and the rate dropped to less than 20% even in 1st place results. So even if you are in the first place on the result page, you will receive from the word searched 10,000 times a month, the best chance is to be only 2000.
Of course SEO is not dead, but paid search is much more effective. Instead of allocating a lot of resources for SEO, allocating resources to change your ranking in paid search will give you a bigger contribution. Of course, you should not just stick to Google ads. You will need to try a few tricks to make your users loyal.
2-Funnel Spends Your Budget Worthless, Do not Overestimate Useless Adwords: Adwords
One of the most common situations in AdWords ads is not optimizing words. At this point, the customer is spending tons of money on unnecessary words - either because of the enthusiasm for more words (no matter what it will do), or because the SEM agency wants to earn more from its commission - even if it does not know the business at all. What is the job of the educational institution in terms of transport? It's happening. Key words are usually evaluated on 3 different intentions; navigation-based search (guarantee bank online transactions login), information-based search (indication of your pregnancy), transaction-based search (buy shoes). The users who really intend to purchase look for "shoe" instead of "xx brand red 38 shoe". However, since you finish your budget on "shoes", you will not appear in the search results and you will avoid the customer. If there are clicks on calls outside these three different intentions, sales will not occur.
SEM agencies usually do not even know about turnover, profit rate or even sales figures. Even the best-intentioned SEM agencies increase visits only, rather than sales, in the words they experience for the first time without this information. For example, a user who has gone through the word "gift" came to buy. The gift should come out when you search for shoes, you should not spend our limited budget while searching for shoes. If you approach Adwords ads as you approach Digital Lotto, you're just losing money. Instead of guessing, you should keep an eye on your Bidlerinizi and your words constantly. Customer coming through Adwords LTC'we should not have seen him in the commercial at all.
3- Marketing Funnel is not One Way: Remarketing
Those who see the funnel image think they are talking about a strategy with money on one end, but no. You have not earned anything yet from the customer who had previously made a purchase from you. He must come back again, so that you can profit in real manpower. Are not they a patron or a customer? Wasted money, labor? You spend tens of thousands of dollars for SEO. The user came and went without getting anything. No, it means you agree to leave, you've thrown your money out. You should call him repeatedly with remarketing. It consists of users with dozens of browser tabs in front of us in digital. For this reason, there are dozens of things in their heads, just like fish memory, they can forget about the product they saw three seconds ago. These customers keep an average minute on your pages. He should not run away in a minute. Remarketing on GoogleDetails of why and how you should do it Aykut articleYou can check it out. You should not be limited to remarketing on Google, but you should also reserve a remarketing budget on Twitter and Facebook.
4- The most informative methods you take in the papers: PPC
You will create to increase sales of your product in the strategy "no one uses it anymore" Cross-Sell and Up-Sell most likely you will get the highest return. Similar products on your website. optimizing parts for Up-Sell or Cross-Sell will not be enough in itself. You also need to support these areas with Pay Per Click. Facebook Custom Audiencesand Google Customer MatchWith i, you can increase your sales to much smaller budgets. With catalog ads, you can also integrate the "you can enjoy them" part.
5- Data for Re-Selling Is Very Important But Wrongly Picked: Forms
It is our main goal to attract users to my website in some way. Our main goal is for the incoming user to leave us money. Generally we are creating strategies by forgetting this main goal. This is where my mind comes re-selling and we start collecting data immediately. Mail address, phone number, mail address, etc. what we can get is that we can touch the customer again and again from different platforms. We even socialize this data so that we can touch it more sensibly. But there is a slight distress here. We will collect data, so let's get started You can not collect any information when you enter the TC ID number. On the other hand, brands that focus on purely data aggregation can not offer any benefit because of the biggest failure. Generally users "we will buy you all the information and sell you more"They do not show much interest in the reasons presented.
When collecting leads you do not need to be afraid of the users with the information that will not really work. You should even automate as many processes as possible. The user should see the direct form filled in via the location info instead of the location selection or do not fill out the long form with Facebook / Google / Twitter login. Also, what is the request for your home address in the section where you actually offer your mail subscription? Although collecting leads does not like the users very much pop-upscan be quite useful. IIIa pop-ups if you do not use popscrollcan be a solution for you. But you have to integrate pop-ups and cookies in a healthy way. The user hates pop-ups as they enter the page without seeing more content. He will have already decided in the first 5 seconds whether he likes to review the content. The pop-up that will emerge after that 5 seconds will not bother him. For example, in Marketing, although the user did not pop-up once a month 60 seconds after entering the user, the return rate is around 5%. Pop-ups like user input bounce rate There is no change when it is expected when it increases by 10%. Remember, turn-by-turn rates for benefit-oriented forms will always be much higher.
6 - Sealing While Mailing: Segmentation
Do not regret that the users are registered to your site or bulletin. How many people in the country do you buy from the same website every day? You do not really need to do daily mailing to 99% of your users. If your profits increase sales. To me pink footprint Will my mailing rate and click-through rate not increase if I go out of the way with the time / effort / budget to spend mailing, the pages I visit on a weekly basis or my previous exchanges? I will never enter #tbtepttavm ode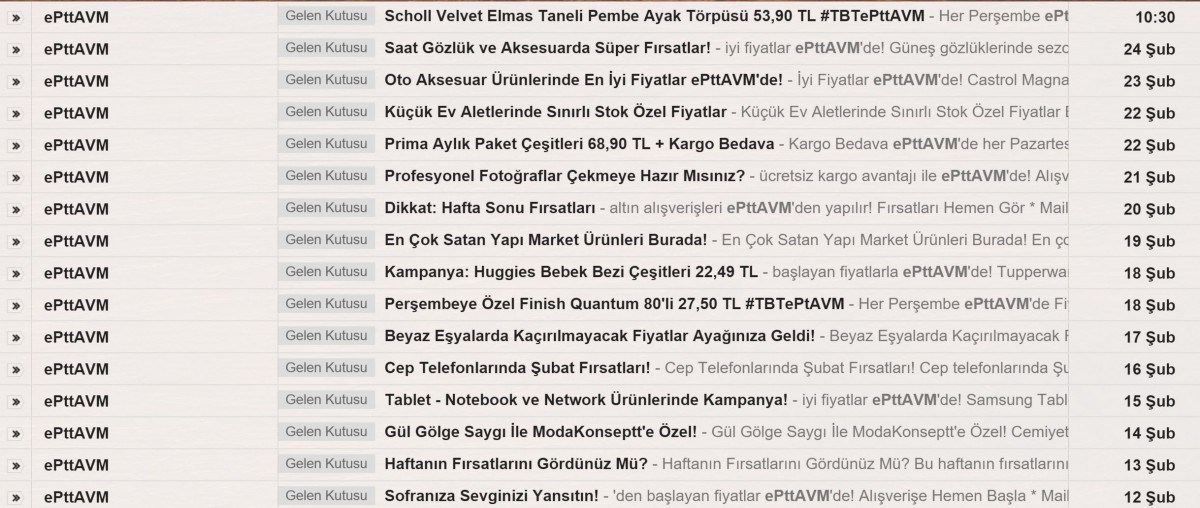 Mailingte segmentation saves lives. Not only do not bother the user yourself, but also for sales-oriented mailing segmentation condition. For this purpose, you can group items such as pages that the user clicks after clicking on the site, products that he has touched on with fares, products he has purchased, items he left behind, and products sold with the product he bought. But we do not have to get a pink footprint because we have a baby diaper.
Data socialization campaigns and the customer's educational status, gender, location information, interests, etc. and even the applications that are coming from your mobile app, and even GPS data, must be processed into these data, automationmailing should be performed. You need to use the data you have obtained in creative form, for example, when the user goes to a different city, you can redirect the store in that city. It does not mean that you will send an e-mail only when you leave a product in the cart.
7- We Have Captured the Mobile Cycle (Could Not Get): Responsive
Yes, mobile applications are necessary, they offer great opportunities, but there is a bit of truth to talk about. 2015 best selling phone model in Turkey, according to the Q4 data General Mobile 4G. I am not the most used, most sold. So these users will use this phone for an average of 2 years. So 2 years later, the phone's internal memory average of the market will be about 16GB. When we remove the fields that are allocated to the system, cache, Facebook and Google applications, the number of applications that the user can upload does not exceed 5. We did not even add the user to the application every day or even the account. He can not load it for more. So the application budget, presentation of the application etc. Instead of taking out the pencil pen budget, why not direct the Responsive design, which is no longer a requirement anymore? I draw the gold again, Responsive I said. I'm not referring to an adaptive or mobile-friendly site. There are many factors such as the appearance of the CTA in the appropriate size, the exact fit of the images, and the quality of the CTA.
If you catch the mobile call, you have to make sure that more than 40% of your sales come from mobile. Maybe Branded AppsYou can go to data collection again, but it is difficult to get sales in the ecosystem through mobile application. We are still at a time when we are seeing more explanations about "We need to open our site from Desktop to add a basket".
8- We Optimize Everything, It Goes Very Good: Will not Go, Optimizations Will End
The reason why the digital has covered our lives so much is that it is constantly changing. Many of my customers have a basic complaint. "When we invested so much, what should we do with this? ". No, it will never end. It's always more optimistic at your fingertips. When you say that you can not do any more, the habits of the user change, the market changes, the opportunities change. Absolutely your budget and part of your time R & Dso that you can stand before your competitors. There are hundreds of paid / unpaid reporting tools. from Analytics heatmap you will have to identify individual problems up to the tools and solve each problem. Although we sometimes seem to have no problem, we've seen a lot of improvements in turnover, with a slight improvement of 400%.
At this point A / B tests are entering our daily lives. We have to measure every action, try it constantly and optimize it repeatedly according to the situation. Otherwise, we will not be able to repeat the customer coming to the marketing funeral. Since most brands are not able to do that, they are always calculating their costs from newcomers in budget negotiations with the digital agency. But the function of the digital agency is not to bring in customers for the first time. He's also responsible for bringing the customer over and over again.
Mastering these 8 items is a process that takes quite a long time. For your brand you growth hacking counseling I can support it in the field.