Chatbots are growing very fast. I have come across hundreds of different types of creative chatbots, especially in these examples, I would like to talk about how chatbots can be used in marketing.
First of all, I need to talk about opportunities for chatbots and misinformation. Only the Facebook Messenger bots should come to mind when you mention Chatbot. Platforms on which ChatBot software can be installed;
Amazon Echo
Android
Cisco Spark
Discord
E-mail
iMessage
iOS
Skiff
Luna
Facebook Messenger
Skype
Slacker
SMS
Telegram
twitter
Viper
website
weChat
I think this sub-platform revolution will be seen when Whatsapp publishes a chatbot installable API. But preparations should already be started. There is a feature that people do not know about, especially on Facebook Messenger; Broadcaster.
You can send sponsored messages to anyone who sends you messages via Facebook's new sponsored message advertising model. But there is a reason why it is rarely used. To use this ad, you need the minimum CPC 5.5TL Now you need to set it as. Just as LinkedIn's 2 € message cost is very expensive, this feature is also very expensive. At the same time, the feature is very useless because you can only target senders to you. It is likely that this ad type will be updated in the coming months. But thanks to chatbots, we do not even need this ad.
If someone has sent you a message by clicking "Start" while Chatbot is installed, you can send it an automatic message until it is unsubscribe again. If 1000 messages have been sent to you by today Broadcast feature With one click everyone can send the same announcement message. This feature is now in our lives as a new holding channel in digital marketing. Especially news sites started to use this feature frequently. On the other hand, you can easily reach the promotional messages that you want to give to users who have already communicated with you. Considering that SMS is no longer used in this respect, a very effective channel has been eliminated. Messenger messages that you can look at are sent to you as if you are opening your computer like push notifications sent to your desktop, with 20 notifications saying "nooluyo lan". In order to provide this, you need to increase your subscriber number as soon as possible. To increase the number of subscribers, I encounter very nice chatbots.
for example Brandgrow it helps me with which hashtagi I need to put in an Instagram post.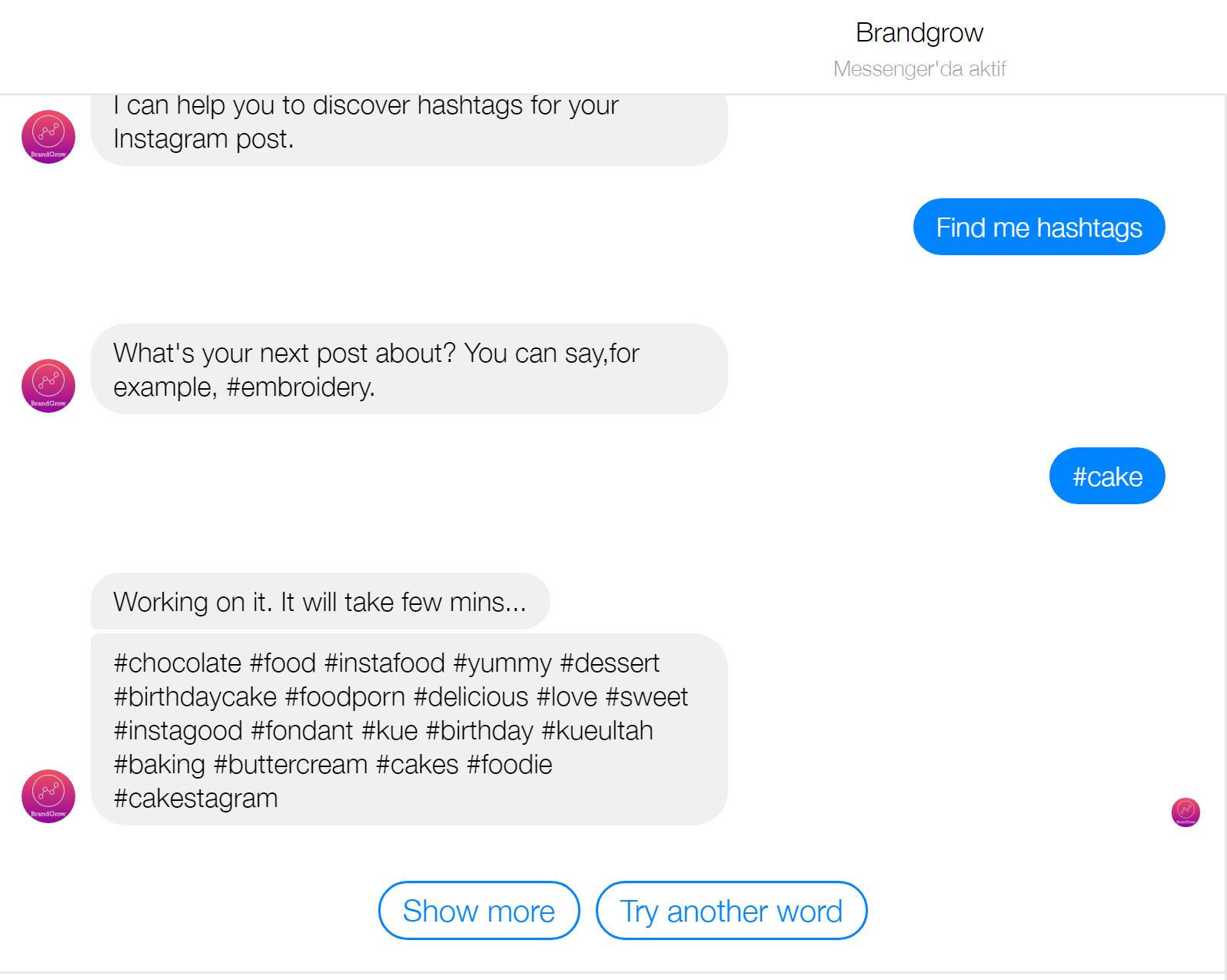 Or, for example Surveybot It helps to organize surveys through Messenger. Swelly is the most comprehensive bot I've ever seen in my life. Make it really halal, you can talk for hours. It is so beautifully designed that you give your all kind of data and you do not think at all. The bot sends two content to humans and provides comparisons. The other user of the bot compares the two contents you have sent and the results come to you. I call it Xiaomi or iPhone. BOTLIST you can explore hundreds of different boots.
I I chatbotI wrote a small AI that can answer basic questions, but the use of Chatbot applications is so easy that you can do much more detailed projects. Since I am using the ChatFuel application APIs, I am able to go to a lot of greyfits. Automatic voice and video sending, location sharing, Google and Bing search result, Via IFTTT Linking content from Youtube, Twitter and Instagram accounts, Through Zapier RSS, Youtube, Google Sheets, Google Calendar, WordPress, Slack, Twitter, Instagram and Vimeo.
My favorite feature is RSS connection. My articles automatically subscribe to my latest articles when subscribed via Messenger. Read rates are 90%, click-through rates are around 20%, higher than my email subscriptions. In order to win the subscriptions, I still have Facebook ads. You can create "send message" campaigns via message ads. Anyone who asks you a question, who wants a price, will be able to speak with your chatbot and be included in the subscription.
Messenger Chatbot Size and Restrictions
When editing in Messenger chatbots, it is necessary to pay attention to visual dimensions and word lengths. The image must be in size 1-1.91.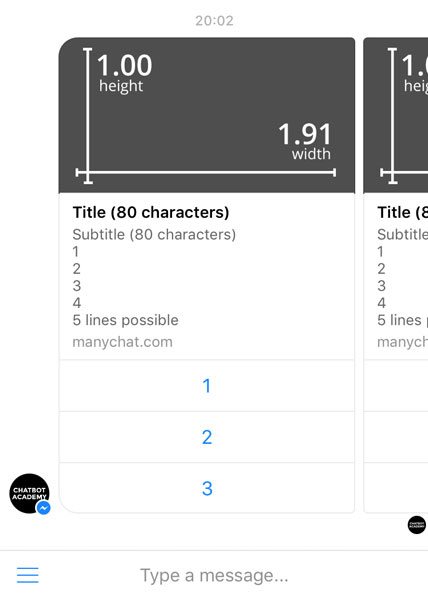 You can add scrolling content 10 times right in the gallery, you can add 3 buttons to each area. Emoji usage is very common especially in content. On the other hand, the use of gifs in greeting messages can also attract a warmer affair with you. If you send messages with different domains Domain Whitelist you will have to be aware of the incident. In your messages there is no rule for you to put out a subscription button but still it will not be bad to put it ethically.
The ChatBot setup on your page allows you to answer questions more frequently and to run fewer elements. On the other hand, you can easily get the green message icon on your Facebook page with boots while it is very difficult to get it with manual answers.
It is very difficult to attract viewers, especially when broadcasting live. Those who know the live broadcast experience on Facebook, Facebook sends very few people to you. The number of viewers you can not advertise is very low, and the production you are preparing is a pity. With Broadcast you can instantly direct people to your broadcast.
IFTTT and Zapier
For those who do not know IFTTT and Zapier, there are two great tools that connect your life to automation, one that is used for a job other than your own. These tools also provide ChatBot integration. One of the reasons for choosing Chatfuel is the integration with Zapier. On the other hand, I can say that IftTT allows me to keep a close watch on the industry whether Hot topics in Producthunt instantly receive Messenger. Chatbots are able to feed you constantly. The limit of what you can do with Zapier's unlimited API support is only your imagination.
New Opportunities
Chatbots offer us a whole new way of doing business. for example Leadz to The bot connects to your ads with the Facebook Marketing API and gives you suggestions on how to optimize your ads. It does not just stay with the suggestions, it also gives you the average bid value by sharing estimates. These features will soon become available for sale, while at the same time they provide very detailed data as if they were tabbed for a while. I think the agencies will soon be discovering chatbots to get social data.
your brand Social Media Consulting Would you like to be able to call with a wider audience?